Throughout history, people's experiences of pandemics have differed according to their access to power, privilege and resources. In 1665, following an outbreak of the bubonic plague in England, Cambridge University closed its doors, forcing Isaac Newton to return home to Woolsthorpe Manor. According to some historians it was apparently while sitting in the garden there one day, he saw an apple fall from a tree, providing him with the inspiration to eventually formulate his law of universal gravitation.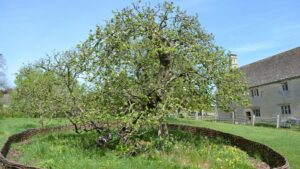 A future historian writing about the COVID-19 pandemic will most likely note the dramatically different ways people are experiencing this pandemic according to their race, social class and gender and the parallels with earlier pandemics. The disadvantaged poor have largely been the hardest hit by COVID-19 in the UK, as they have all over the world. As Kawachi points out, it is as if people separated by a few streets inhabited alternate realities, with some worried about their next haircut whilst and others worried more about losing their jobs, getting evicted and moving in with relatives thereby piling on their risk of infection.1
Pandemics disrupt everybody's lives, but not in the same way. Health inequalities have been evident since the beginning of public health record keeping such as Villermé's tabulations of mortality rates by income (1782–1863)2. Since the 1980s, life expectancy inequality between affluent and deprived communities has been increased steadily in England3. The Eastern region is no exception. For example, in South Cambridgeshire men are expected to live almost five years longer than their counterparts in Southend-on-Sea4. The Covid-19 pandemic just happens to be the latest crisis that has brought a much needed renewed attention to the existence of health inequalities.
In 2020 a PHE report revealed how the early impact of COVID-19 replicated existing health inequalities and, in some cases, increased them. National and international research has continued to add more data and evidence since. We reflected on what we have learned from the first months of the pandemic, especially about the effects of COVID-19 on health inequalities and what can be done to mitigate them at our showcase event highlighting the great work in Norfolk on protecting their most vulnerable citizens to ensure they got the support they needed.
By health inequalities I mean systematic and avoidable differences in health and wellbeing between different groups of people which arise because of the conditions in which we are born, grow, live and work. All these factors are known to influence our physical and mental health – how we think, feel and act. They can also influence our exposure and vulnerability to COVID-19 infection, our ability to manage the consequences of the disease and how governmental control measures affect us.
The current pandemic has been described as syndemic – which refers to an accumulation and adverse interaction between two or more conditions in a population, often resulting from the social context in which that population lives. In this case catching COVID-19 is layered on top of existing epidemics which are adverse social determinants of health.
To reduce health inequalities action needs to be taken to address all the factors that contribute to them and we need to work with our community to take positive action. Although there is a specific role for health and care services, much of the action required will be outside the health sector and both national and local government need to play a strong leadership role in mobilising formal and informal resources needed.
What are the AHSN Network doing about health inequalities?
Tackling health inequalities has always been core to how we work at the AHSN Network but the past two years have caused us to increase our focus. At Eastern AHSN we have committed to completing an equality impact assessment for all our projects at the development phase. This enables us to ensure the innovations we support help tackle health inequalities and regardless of syndemic factors; comorbidities, age, gender and disability, race and religion or where they live.
We have published our pledges to diversity and inclusion and are committed to ensure we recognise that people, and their needs, are different and to look at our plans from these different perspectives. Furthermore, by identifying an activity that may have a negative impact on a particular group of people we can develop action plans to counter these effects from the beginning, ensuring we drive equality not inequality through the Eastern region.
In the middle of the pandemic I interviewed NHS Employers chief executive Danny Mortimer about the impact of MedTech, innovation and a collaborative approach across the health system in the response to COVID-19 for our podcast, Ideas to Impact. Danny spoke about the importance of AHSNs in binding together the healthcare system by bringing together stakeholders from the NHS and in the wider economy. He also covered the way in which the pandemic has disproportionately impacted minorities, highlighting how important the NHS Race and Health Observatory will be as we look to continue evaluating what healthcare services can learn from the COVID-19 response as part of NHS Reset.